Simply the best fine art printing options on the market. Fine art printing for your photographs and art reproductions without compromise.
Whether you're looking to print a piece for an esteemed gallery, or to hang a beautiful piece of work on your walls, you'll want our specialist expertise and history in fine art for that picture-perfect print. Your photos printed on fine art papers aren't just photos that you will want to leave in an album; these are works of art that you will want to keep on display. Our premium photo prints are not your ordinary lab automated photo prints. They are extraordinary, high grade prints, using archival inks, and printed using the best inkjet large format printers in the industry.

As specialists in photographic fine art printing throughout Canada, Kuva Print and Frame has the skills and materials to ensure that your fine art photographic prints are ready to mesmerize viewers at galleries, art shows, exhibitions, and gracing your walls in your own home or office.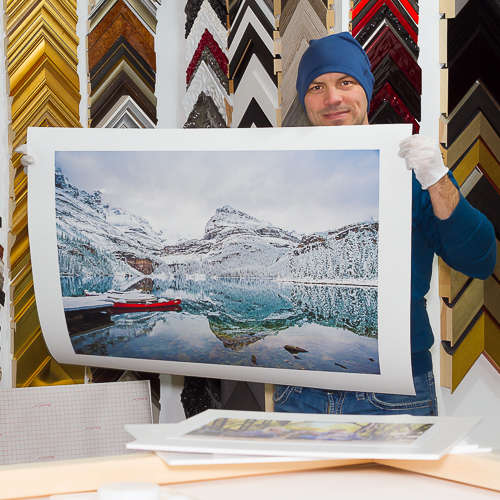 Fine art printing with Kuva
With a Master Photographer International designated expert to hand-pick and test each of our
many fine art papers, and a history of printing high end work for galleries and exhibitions, we guarantee that your fine art prints will surpass expectations. Here's what to expect from your Kuva fine art print:


Our fine art papers boast a premium 100% cotton base, and alpha cellulose for Baryta Satin
All of our fine art papers are OBA and acid-free (free of optical brighteners which fade over time)
Fully archival museum grade fine art printing, using 11 ink pigment based archival inkjet inks (giclée)
Brilliant colour reproduction and detail ensures the most vibrant and sharp looking prints available
Fully colour corrected editing and printing environment for accurate file colour
When you're trying to decide which paper you need to empower your work, we offer the following premium fine art specialty papers. Whichever paper you choose, you can have absolute confidence knowing we have done all of the hard work of selection for you, and that your printed photos will astound for beyond a lifetime. We can also print on any other preferred inkjet paper in quantity.
Your curated selection of fine art printing media
Need help choosing the right material for your fine art print, want samples, or have any questions about what you can expect? Contact us toll free at 1-888-751-4966 or email us at kevin@kuvaprintandframe.com if you have any questions.